Universal Plastic Fenders

Available in white, red, yellow,
and powder blue (not shown)
Front $32.00
Rear $38.00
Alloy Fenders
Dress up your vintage trialer!
4" Front $118.95
5" or 6" Rear $130.00
Clip-on Number Plate
Manufactured of high-quality, hard plastic impervious to gasoline and chemicals.
$20.00
Renthal Handlebars, 5" / 5.5" / 6"
High quality alloy braced 7/8" trials handle bars. Gun metal gray. Cross bar pad not included.
$89.95
Pro Taper Handlebars
High-strength 2014-T6 aerospace alloy rated at 70,000 psi ultimate strength. 1/4" cut guides for precise modivication. Knurled clutch side for secure grip hold. Shot-peened finish to increase fatigue life. Cold-forged crossbar with stainless hardware. Includes crossbar pad.
$69.99
Protaper & Renthal Grips
Renthal grips in medium or firm compound: $15.95
Protaper grips $11.95
Sammy Miller cross bar pad: $19.95
High quality fabrication. Unique design features easy on and off. Fits all bars. Looks great and protects! Available in 12mm or 14mm
$27.95
Weld-On Folding Footpeg Kit
$87.00

Weld-On Footpeg Extensions
Weld these manufactured-on-site extensions to your stock pegs for a wider area for your feet, more comfort, and better control (pegs not included).
$45.00
Send us your stock pegs and we will weld the extensions on for an additional $30.00.
Domino Lever Assembly, Brake or Clutch
The best quality guaranteed!
Brake or Clutch Lever Assy, Each $62.00 ea
Brake and Clutch Lever Assy, Pair $120.00 pr
Amal-Pattern Lever Assemblies
Aluminum levers; very forgiving and bend rather than break. Fit standard 7/8" bars. Available separately or in a pair.
Each $52.00
Pair $100.00
Domino Throttle Assembly
Slow- (black tube) or fast- (white tube) trials throttle assembly.
Black Tube $28.95
White Tube $29.95

Replacement cable wheel or cap
$3.95 ea
Cable Luber
Used to inject lubricant into the cable housing. Clamps over the housing and wire, allowing an aerosol can to be connected. Once the lube runs out the far end, the cable is lubricated.
$10.99
Chain Break Tool
Heat-treated, replacement tip included.
$20.95

Extra tip $2.95

Yamaha-Style Kill Button
$17.95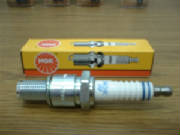 NGK Spark Plug
Manufacturer's recommendation: B7ES
$3.15

NGK Spark Plug Cap
The best one we've found! Waterproof, genuine NGK "L"-style cap.
$6.95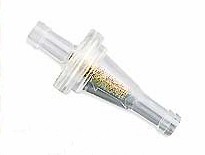 In-line Fuel Filter
$3.30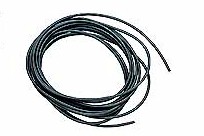 Motorcycle Fuel Line
Black fuel line, compatible with a wide range of high performance additives. Extremely flexible, resists kinking.
3/16" $1.60/ft
1/4" $1.99/ft

PCW Air Filter
Manufactured on-site of high-quality foam. Fits your stock cage.
$28.95

Replacement cage: $15.00

Don't forget your air filter oil!
Silkolene foam filter oil is a high-technology coating treatment for all foam filtrs. It contains polymeric additives which provide a hyper-tacky surface to resist sand, dust and water, but not air flow. It applies extra thin to penetrate and then sets highly-tacky.
Pint - fluid $14.50
16 oz aerosol $9.99

Maxima FFT foam filter oil is a waterproof filter protection against dirt and fine dust. Its synthetic formula does not restrict air flow, plug filter cells, or migrate off the filter.
16 oz $7.08
Liter $9.81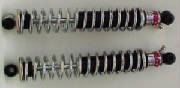 Falcon Shocks
Custom Falcon gas trials shocks built on-site, re-buildable, re-chargeable. Truly customized to your rider weight, ability, and bike. Spring rates from 40 lb to 110 lb. Even a young rider benefits from the right shocks!
$340.00 / pr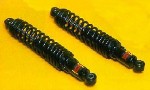 Betor Shocks, 13.4"
Generic gas trials shocks with progressively-wound springs, 40 lb - 60 lb rate. Non-rebuildable, non-rechargeable.
$255.95 / pair

Maxima & Silkolene Fork Oil
Silkolene fork oil is an advanced formula front suspension fluid that reduces wear, resists corrosion and oxidation. In light, medium, and interrmediate weights.
Liter $9.50 ea

Maxima fork oil has a high viscosity of 190+ which provides uniform fork action over a wide temperatur range. Special additives control anti-foaming, rust and corrosion. In light, medium and intermediate weights.
16 oz $4.89 ea
Trials Tires
IRC Trials Tires & Tubes
Tube-Type Front $82.95
Tube-Type Rear $145.95
Tubes, front or rear $13.00
Tubeless Rear $146.11
Michelin Trials Tires
Tube-Type Front $102.95
Tube-Type Rear $163.95
Tubes, front or rear $13
Tubeless Rear $183.95

Dunlop Trials Tires
Front $98.25
Rear $141.79