Tuesday, March 4, 2008
Oooooh....Pretty....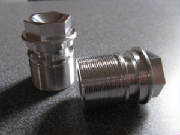 New! Finally the long awaited replacement fork caps for TY250 twin-shockers. Beautifully CNC machined from billet aluminum. No longer do you need your Volkswagen oil-drain plug wrench to remove your fork caps. New caps are machined to be removed and replaced with a standard 23mm wrench.
$65.00 per pair
4 mar 08 @ 1:11 pm cst